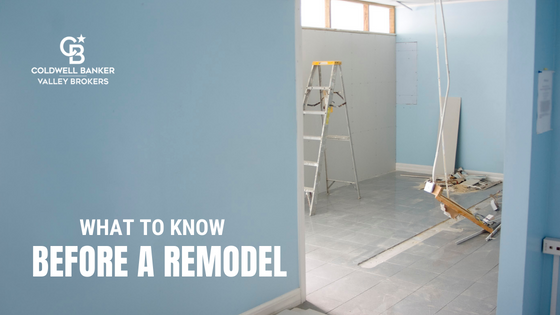 There are a lot of beautiful homes for sale in Albany and Corvallis. If you've found the perfect home or are ready to sell your current home, but it could use a little work, then you've come to the right place. Our real estate agents know that remodeling projects can possibly add value to your home. Here are the key things they want you to know before taking on a home remodel.
Consider the Return on Investment
Remodeling your home is often a wise financial choice because it increases your home's value. However, some remodeling projects offer a greater ROI than others. Kitchen remodels tend to have the highest ROI. Bathroom remodels, and exterior remodels also have a high return on investment. Remodeling a bedroom, hallway, or dining room comes with a lower ROI in most cases.


Upgrade Based on Neighborhood Value
In each neighborhood, there is a "ceiling" for home values. In other words, no matter how much work you put into a home, it will never sell for significantly more than the other homes nearby. Take this into account when planning a remodel. For instance, if the average sale price of homes on your street is $250,000, spending $100,000 on an extensive kitchen remodel is unlikely to increase your home's value by a full $100,000. Consult your real estate agent for a better idea of how much your home will be worth with certain upgrades.


Set a Budget
It's really easy to spend more than you planned on a remodel. The best way to keep remodeling affordable is to set a budget from day one. Then, choose materials and designs that fit into that budget. If you need to put off larger projects for later, then so be it. You can always start off with smaller projects, such as a bedroom or entryway makeover, when your budget is limited.


Know What You Can DIY
DIY remodels can save you a lot of money, but you need to know what you are capable of. You should never DIY any project that involves HVAC, electrical, or plumbing work, as mistakes could prove dangerous. On the other hand, tasks like painting walls, putting down vinyl flooring, and installing new shelves are quite approachable if you have basic skills.


Choose Timeless Looks for Permanent Changes
Decorating trends change quickly. So, when you are making expensive upgrades, such as installing new floors, counters, or cabinets, try to choose timeless options. You can add more trendy styles with decor like wall art and drapes. These are easier and less expensive to replace when the styles change. Homes with timeless "bones" hold their value better and are easier to sell.


Take Your Time
So many homeowners dive head-first into a remodeling effort, take on too much all at once, and end up feeling overwhelmed. If you take things slower, remodeling will be more fun. Make a list of projects you want to tackle. Then, decide what order you'll tackle them in. Handle one project at a time, only moving on to the next one once the previous project is complete. This will keep you organized and will also make it easier to stay on budget.
It's amazing what a new coat of paint, some new flooring, or a few new appliances can do for a place. If you're still searching for the perfect home, don't hesitate to contact us. We'll help you find the perfect place for you and your family.