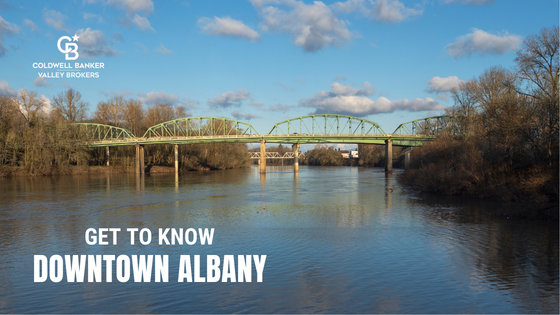 While downtown Albany is listed on the National Register of Historic Places, it offers a vibrant present and future! Much like Corvallis, Albany's Willamette Valley neighbor, the city has retained downtown's classic charm while incorporating art, restaurants, and other contemporary features.
Our real estate agents take a look at some of the places and events that make downtown Albany a must-see location for locals and tourists alike.
Antiques in the Streets & Classic Car Show - Broadalbin St., Albany, OR 97322
Turn back the hands of time at the 23rd annual Antiques in the Streets & Classic Car Show. Upwards of 50 vendors will be on hand with glassware, clothing and accessories, jewelry, and other vintage items. Get some great photos of the whole family alongside more than 100 stunning classic cars lining the streets up the Promenade to the Courthouse. When it's lunchtime, you're within walking distance of great downtown restaurants along with the farmers' market. Proceeds from this year's show benefit the Albany Fire Fighters Community Assistance Fund. The show takes place Saturday, September 10, from 8 a.m. - 4 p.m.


Albany Antique Mall - 145 SW 2nd Ave., Albany, OR 97322
Founded in 2009, the Albany Antique Mall is still in its teenage years, but the merchandise on display dates back over the last century. With more than 25,000 square feet of selling space across two stories, the mall accommodates a fascinating variety of items to fit any interest. Furniture, books, Depression glass, and toys are just a few of the categories on display. The Vintage Boutique is the Willamette Valley's top source for vintage clothing, footwear, and accessories for men and women. Visitors from around the world stop by for incredible bargains. The mall is open daily from 10 a.m. - 6 p.m.


Albany Regional Museum -

136 Lyon St. S,

Albany, OR 97321
There are many ways to connect with Albany's past in the downtown area! Albany Regional Museum is home to an array of exhibits exploring Albany's past and offers interactive elements that kids, in particular, will enjoy. Be sure to check out their website for the latest information on current exhibits. Hours are 11 a.m. - 4 p.m. Tuesday through Friday and 10 a.m. - 2 p.m. on Saturday.


Albany Civic Theater - 111 First Ave. W, Albany, OR97321​
Living near downtown Albany means you don't have to travel far for live theater! Now in its 71st season, Albany Civic Theater has delighted theater patrons for decades. Plus, the theater allows you to buy individual tickets or take in the full season with a season pass. Evening shows start at 7:30 p.m., with matinee shows starting at 2:30 p.m.


Local Restaurants in Albany
After walking around downtown, you've probably worked up an appetite! Luckily Albany has fantastic local restaurants to choose from, and many of them reside in the downtown area. With a mix of bistros and cafes, you'll have options for either a delightful sit-down or carry-out meal. Here are a few local options to get you started.  
Whether you're looking for Albany homes for sale or Corvallis homes for sale, we've got you covered. Contact us at Valley Brokers to get started.